Sunday School. Jesus said,

"Let the little children come to me, and do not hinder them, for the kingdom of heaven belongs to such as these."

Matthew 19:14
From 10:15 am to 11am

kids 3yrs -10yrs old

Snack provided

kids learn about God's love in a fun a safe place.

kids connect with another Christian kids.

Lessons in English with a bilingual teacher

play time at the gym
The

purpose of Sunday School is to teach the gospel of Jesus Christ and strengthen individuals and families through teaching, learning, and friendship.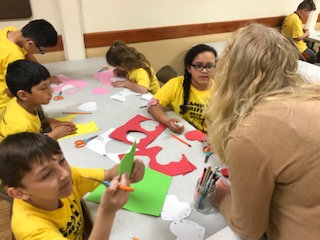 Camp Christ
Is the special event for the children of our community for the mornings of one week in June every year. Kids are invited to learn bible lessons, do crafts based on the lessons they have learned, sing and play. Snacks are provided each day and each child gets a special tee shirt based on the week's theme. We look forward to providing your child with a nice summer time activity!
Campamento Cristo es el evento especial para los niños de nuestra comunidad durante las mañanas de una semana en Junio cada año. Los niños son invitados para aprender lecciones biblicas, hacer proyectos de arte basados en las lecciones que aprenden, cantar y jugar. Bocadillos tambien son proveidos cada dia y cada niño recibe una camisa basada en el tema biblico de la semana. Tenemos emocion proveer a su niño con una actividad bonita del verano.