Pastors of Christ/Los Pastores de la Iglesia Cristo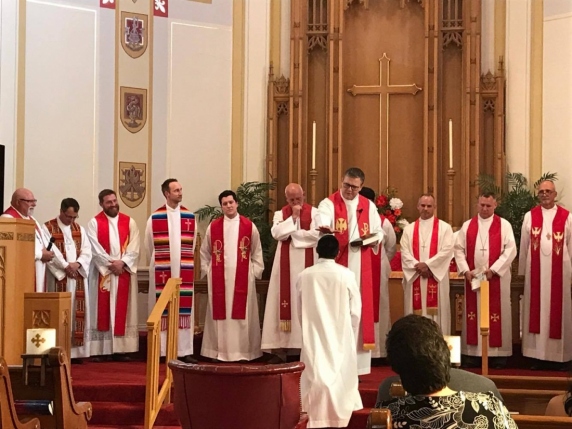 Pastor Chad Walta
Pastor Walta came to Christ, Milwaukee in 2016 from Living Hope Lutheran Church in Brighton (Commerce City), Colorado. Originally called to serve our Spanish speaking families, with the retirement of Pastor Joel Jaeger in 2017, he began serving the English speakers of Christ soon after coinciding with the graduation, divine call, and ordination of Pastor Nixon Vivar to serve our Spanish speakers that same summer. Pastor Walta has been serving as parish pastor since 2003 and has served congregations in Minnesota as well as Colorado, serving as well Rocky Mountain Lutheran High School as teacher from 2007-2012. He is married to his China Poblana, Julia Walta, who hails from Puebla, Mexico, and together they have 3 children: Carlos (15), Juliette (12), and Opal (2). He loves living close to Miller Park to cheer on the Brewers, and is an avid Wisconsin sports fan. He enjoys running, writing and playing music. And he says, "I love preaching and teaching God's Word, and I love Milwaukee--especially the south side!"

Pastor Nixon Vivar
In May 2017, Rev. Nixon Vivar graduated from the Seminary's Pastoral Studies Institute (PSI) program. In June he was ordinated and installed as the 3rd pastor of the Christ Church Hispanic Ministry.

Raised in Ecuador as a Roman Catholic, he came to the United States in 1991 to join his brother and cousin in Milwaukee to gain employment since the economy of Ecuador had taken a downward turn. While attending school to learn English he met a member of St. Peter's Ev. Lutheran Church on the southside. They became friends and he was eventually introduced to the St. Peter's pastor, Matt Krenke. On his days off of work he began studying with Pastor Krenke. By 2001 it was clear he knew he wanted to become a WELS pastor. Pastor Krenke introduced him to the Pastoral Studies Institute program at the Seminary.

It took nearly 15 years to complete the program while working and during that time he met his wife, Carla who was a constant source of encouragement.