Our Prayerful Goal--Nuestra Meta de Oracion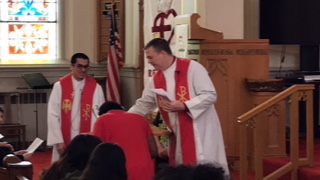 ONE IN CHRIST. ONE AT CHRIST.
UNO EN CRISTO.
What do we mean by "One?"
¿Qué queremos decir con la palabra, 'UNO'?

This is our prayer:
Esta es nuestra oración.

* In our multi-ethnic, multi-language community, that God use us at Christ church to be the touchstone to His Holy Mountain found in Isaiah, chapter 10.
En nuestra comunidad de muchas culturas y muchas idiomas, que nuestro Dios nos use aqui en la Iglesia Cristo para conectar a las almas al Santo Monte que se encuentra en Isaias, capitulo 10.

* That God touch you through our church's witness by His grace through faith in Jesus' saving work with what Revelation 7 says about life eternal, "from every nation, tribe, people and language, standing before the throne and before the Lamb. They were wearing white robes and were holding palm branches in their hands."
Que Dios te toque por el testigo de nuestra iglesia por su gracia y por la fe en la obra salvadora de Jesucristo con lo que habla Apocalipsis 7 acerca de la vida eterna: "de cada nación, tribu, gente y idioma, de pie delante del trono y del cordero. Vestidos de túnicas blancas y con ramas de palma en la mano."